Rotontek is proud to present the High-Efficiency Compact Electric Transaxle, a groundbreaking solution designed to meet the demanding needs of today's eco-friendly, performance-driven landscape. By combining unparalleled efficiency, exceptional durability, and a compact footprint, this electric transaxle sets a new benchmark for environmentally-friendly performance and innovation.
A transaxle is a crucial component in vehicles that combines the functionality of the transmission, axle, and differential into a single integrated assembly. Rotontek High-Efficiency Compact Electric Transaxle offers a revolution in this integral component of modern vehicle technology. We have reengineered it from the ground up, ensuring the best performance while significantly reducing environmental impact.
High-Efficiency Design
The heart of the Rotontek electric transaxle lies in its high-efficiency design. With state-of-the-art electric motor technology, this transaxle maximizes energy conversion rates, delivering superior performance levels while maintaining impressive energy efficiency. This means less power wastage, better mileage, and more performance from every charge.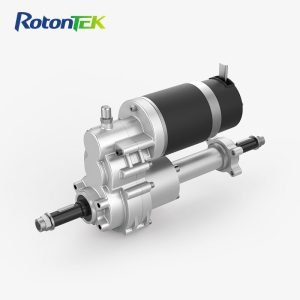 Compact Design
Despite the advanced technology housed within, our transaxle boasts a compact design that allows it to be easily integrated into a variety of vehicle configurations, from electric cars to utility vehicles. Its small footprint doesn't compromise its robust performance or durability. This balance of size and power makes it an ideal choice for those looking for a space-saving yet potent solution.
Superior Durability
Rotontek's High-Efficiency Compact Electric Transaxle is engineered to last. With high-quality materials and meticulous construction, it ensures a long lifespan even under the most demanding conditions. It's built to withstand harsh environments and rigorous operation conditions, which translates to less downtime and more time on the road.
Eco-Friendly Performance
As a leader in sustainable technology, Rotontek is committed to reducing environmental impact. The High-Efficiency Compact Electric Transaxle is a testament to this commitment. By leveraging electric power, it eliminates the need for fossil fuels, drastically reducing emissions. Moreover, its high-efficiency design ensures optimal use of energy, minimizing waste.
The Rotontek Promise
At Rotontek, we stand by our products. The High-Efficiency Compact Electric Transaxle is backed by our comprehensive warranty and our dedicated customer service. We are committed to providing not just high-quality products, but also outstanding service to ensure the satisfaction of our customers.
The High-Efficiency Compact Electric Transaxle is more than just a product – it's a game-changer. It signifies a leap forward in vehicle technology, combining high efficiency, compact design, superior durability, and eco-friendly performance. Join Rotontek in embracing the future of transport technology with the High-Efficiency Compact Electric Transaxle.